Still very much off the beaten path, year-on-year Albania is becoming an increasingly popular tourist destination thanks to its stunning scenery, interesting historic sites, and welcoming people.
Isolated and shut off from the world for so long, Albania emerged from communist rule in 1991. Nowadays, visitors are invariably surprised at all that it has to offer; beautiful beaches lying alongside breathtaking mountain ranges and glittering lakes.
Thanks to its long and interesting history, Albania's cities and scenic countryside are full of amazing old castles, Roman ruins, and Ottoman-era mosques and buildings, which make the country fascinating to explore.
With picturesque towns such as Gjirokaster and Berat for visitors to enjoy, there is always something new to see and do. The now colorful capital, Tirana, is full of monuments and museums offering a look at the country's communist past.
A fascinating country, now is the time to visit Albania, as word is quickly spreading about what this hidden gem has to offer.
10. Dhermi
With its welcoming turquoise waters and beautiful beaches that stretch into the distance, the gorgeous scenery of Dhermi is where many young Albanians head to in the summer. It is also home to some pulsating nightlife.
Located on a mountain slope overlooking the sea, the town boasts some stunning sunsets. Grabbing a drink at one of its numerous bars and restaurants while watching the sun go down is a lovely way to spend an evening.
While there is a fun and festive atmosphere about the place, with lively beachside bars blaring out music, there is more than enough beach to go around; you can always find a peaceful spot to simply kick back and enjoy the scenery of the Albanian Riviera.
dreamstime/© Lev Levin
Once the capital of Albania, Durres is located not far from Tirana on the country's coastline. It is a very popular destination, which means that it can get a bit crowded during the summer.
With one of the largest ports in the Adriatic, the city is a bit stuffy and over-developed, although there is a nice stretch of beach for visitors and locals alike to enjoy. Along the seafront, there are lots of restaurants selling delicious fresh seafood.
Fought over for millennia by the Bulgarians, Greeks, Venetians, and Ottomans, among others, its wealth of historic sites entices just as many people as its beaches. The spectacular Roman amphitheater and fantastic archaeological museum are the undoubted highlights.
With its stunning location on the Ionian Sea, Sarande is blessed with year-round warm weather, sparkling waters, and a relaxed way of life.
While the seafront is a bit over-developed with its line of identity-less apartment blocks, there are lots of nice parts of Sarande to walk around, and loads of bars, restaurants and souvenir shops on offer.
In addition to the ancient ruins found in town, Sarande's surroundings are full of historic sites and natural beauty, making it a great place to use as a base to explore the region.
Lying just a stone's throw away from huge Lake Skadar that straddles the Montenegro-Albania border, Shkodra is a very pretty city to visit. The Buna River runs through town and the Albanian Alps can be seen off in the distance.
The undoubted highlight is Rozafa Castle. Over the course of its history, it has been ruled by the Illyrians, Venetians, and Ottomans, to name a few. The magnificent ramparts and ruins of the castle are fun to explore, and the views over Shkodra are breathtaking.
Although the center of the city has recently undergone extensive renovations, there are still plenty of lovely old buildings and historic sites to be found, such as the Ebu Beker Mosque and Orthodox Cathedral. The Historical Museum showcases just some of the region's rich history and heritage.
With so much beautiful countryside surrounding Shkodra for visitors to explore, there is something for everyone to enjoy.
Widely regarded as one of the prettiest cities in the whole of the Balkans, Berat is known as 'the Town of a Thousand Windows,' as so many windows peer out at you from the front of its hillside buildings which are so tightly clustered together.
Located on a hillside, there are a number of Ottoman-era mosques and Byzantine churches scattered about town. One of the best views of Berat is from across the banks of the Osumi River which runs through it.
While simply wandering around Berat is a lovely way to spend the time, the town also has a great 13th-century hilltop castle, which is worth visiting for the outstanding views. There are also two interesting museums with some fascinating local costumes and artifacts on display and some splendid 16th-century icons.
With its beautiful setting on the Albanian Riviera, Himare's sparkling turquoise waters and spectacular hilly coastline make it a great place to head if you're after some sun, sea, and sand.
While its beaches and peaceful seaside promenade are what most people come for, the historic old town is lovely to wander around; its atmospheric tavernas are full of Mediterranean charm and delicious local seafood.
Perched atop a hill overlooking the old town is a delightful castle, which offers wonderful views over the sea. The nearby mountains also have some lovely trails and viewpoints for visitors to enjoy, while the surrounding countryside is home to spectacular churches and monasteries, such as the Monastery of the Cross and Athaliotissa.
Located in the south of the country, Gjirokaster is a delight to visit. Its beautiful old town is perched on the side of a hill overlooking a valley and its winding cobbled streets are full of quaint buildings and historic sites.
With over 500 homes and buildings protected and preserved as 'cultural monuments', Gjirokaster is full of wonderful architecture. It is often known as the 'City of Stone' due to the distinctive local rooves that can be seen everywhere you go.
Perched above the scenic Old Bazaar is Gjirokaster Castle, reputed to be the second largest in the whole of the Balkans. A fascinating place to visit, the castle has an underground Cold War-era bunker and an Armaments Museum for visitors to enjoy, alongside its impressive fortifications and ruins.
Lying just to the north of Tirana, Kruje – or Kruja, as it is known in English – is famous for being the home city of Albania's national hero Gjergj Skanderbeg. In the 15th century, Gjergj managed to hold out against the Ottomans for 25 years from his base in Kruje.
Known as the 'Adriatic Balcony' by locals, the craggy mountain that looks over the city is home to the majestic Kruje Castle, which was once Skanderbeg's base. Nowadays, there is an interesting museum about the hero as well as a fantastic 15th-century church located within its walls. The panoramic views from the castle are simply spectacular.
The Old Bazaar in the center of town is just as fascinating to walk around. Nestled away amongst its atmospheric streets you'll find some delightful little cafes and restaurants, alongside the plethora of shops selling anything from souvenirs and artisan goods to antiques and leather products.
A picturesque and peaceful place, Kruje is well worth visiting for its historic sites and beautiful natural setting. The surrounding area is equally enchanting to explore, with its lakes, canyons, and mountains.
Home to a number of diverse ecosystems and stunning archaeological sites, Butrint National Park is a popular tourist destination, in large part due to its proximity to the Greek island of Corfu. Many people come to see its majestic blend of history and nature.
Covering a peninsula that is bordered by the huge Lake Butrint on one side and the Vivari Channel on the other, the natural beauty is magnificent; over 1,200 different types of animals and plants reside amongst its scenic wetlands, hills, and islands.
The main attraction, however, is the amazing archaeological site which covers over 2,500 years of history; this includes ancient city walls, remnants of a Roman theater, a Byzantine Basilica and two castles. Wandering around the ruins with the beautiful scenery all around you is a delightful experience. This is undoubtedly one of the hidden gems of what Albania has to offer.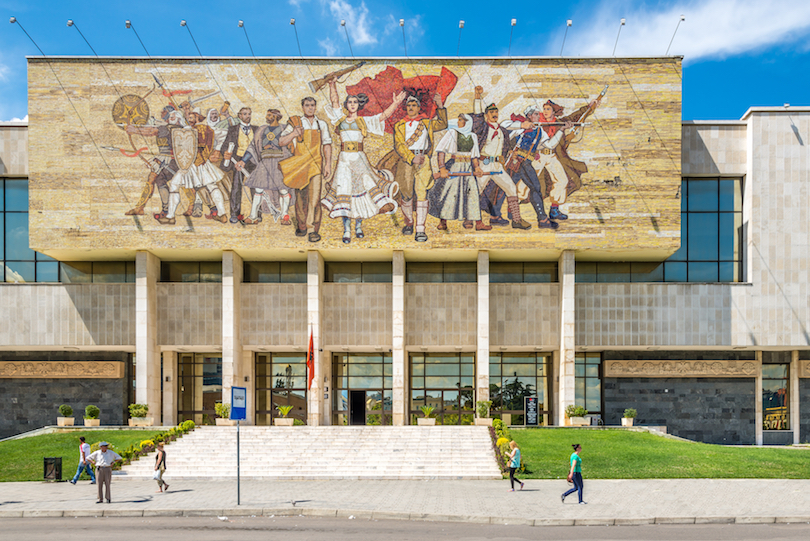 Once full of grey, unwelcoming communist buildings, Tirana has transformed considerably since the early 90s. Albania's capital is now a fun, friendly and festive place to visit.
Full of life, the now brightly colored pedestrian streets showcase some delightful Ottoman-era buildings and Italian architecture 犀利士
that highlights the country's rich past. There are a number of great museums and art galleries worth checking out. Of particular interest is BUNK'ART, which was once a huge government bunker but now hosts art installations.
While it can be slightly chaotic in the traffic-filled center of town, the scenic Mount Dajti is just a short cable car ride away. With fantastic views of the city below and resplendent nature all around, it's a lovely place to spend an afternoon.
With endless bars, cafes, and restaurants to be found around the trendy Blloku area, Tirana has a lively nightlife scene. Visitors to this under-visited capital invariably come away impressed at all that the city has to offer.